Socks have a special place in my heart. Ever since my husband introduced me to the joys of well-crafted hosiery, my devotion to the humble sock has known no bounds. They are the ultimate in hygge, maintaining the optimal degree of toastiness while adding a certain panache to any outfit. Be they ribbed, marled, cashmere or of slippery silk, finding the right sock for any occasion can be an elaborate affair, a quest for the podiatric holy grail, if you will.

Nothing says home comforts quite like a knobbly woolen pair indoors during the winter months. They feel synonymous with roaring open fires, hot chocolates and snogging. Conversely there is no greater sorrow than that of wearing cheap, synthetic socks inside your boots when it starts to rain. As your feet turn to frozen blocks, you rue your stupidity. One could almost say that good socks are an act of self care!

On a trip to London, I acquired a personal favorite – Shetland crew length socks from Anderson & Sheppard. Not, one would say, the most seductive of accessories, but they stand alone my most sensible and beloved holiday souvenir. Their caress is akin to a warm hug; a reprieve from the truculent world outside.

Holey socks are a sign of neglect. I beg thee, give those handworking foot mittens the respect they deserve. Marie Kondo forbids her devotees from even folding them. "The time [your socks] spend in your drawer is their only chance to rest," she proclaims. "But if they are folded over, balled up, or tied, they are always in a state of tension.... What treatment could be worse than this?"

And it's not just our foot-loving friends that seem underappreciated. Think about the elegance of gloves and how these beauties have been denigrated of late. These days, fingers are woven with tech patches or bizarre openings to facilitate our constant compulsion for cell phone usage. Our hands are no longer swathed in leather and lace as an act of decorum, but instead they seem to have become perfunctory stumps, acting as iphone accessories.
And whatever happened to the muff? (A sentence that even as I write elicits an involuntary chuckle.) The muff was a cylindrical hand warmer popularized in the 1570s, often trimmed in fur to further heighten the cosiness. Looking at
Francesc Masriera's Winter 1882
, I think they look simply delightful and I can't quite fathom why they fell out of favor. Perhaps it has something to do with their reincarnation in the 1940s as
Hippo Hands
, an iteration developed for frosty motorcyclists which attached to their handlebars. If you ask me, the muff market is primed for "disruption", as the millennials say.
In a world accelerating full throttle into mindless overconsumption, fuelled by an insatiable thirst for newness, I'm profoundly aware that we've never been surrounded by more
stuff
. Conceivably, in cultivating my own obsession with certain accessories, I'm hoping to imbue these items with greater importance in my daily life. Yes, a pair of socks is perfunctory, but the right pair can most certainly induce love. Or at the very least, a connection between garment and wearer. And in this way, I hope any item can be elevated from functional to something more – something that adds value to my experience of the world, something that cannot be easily discarded. ▪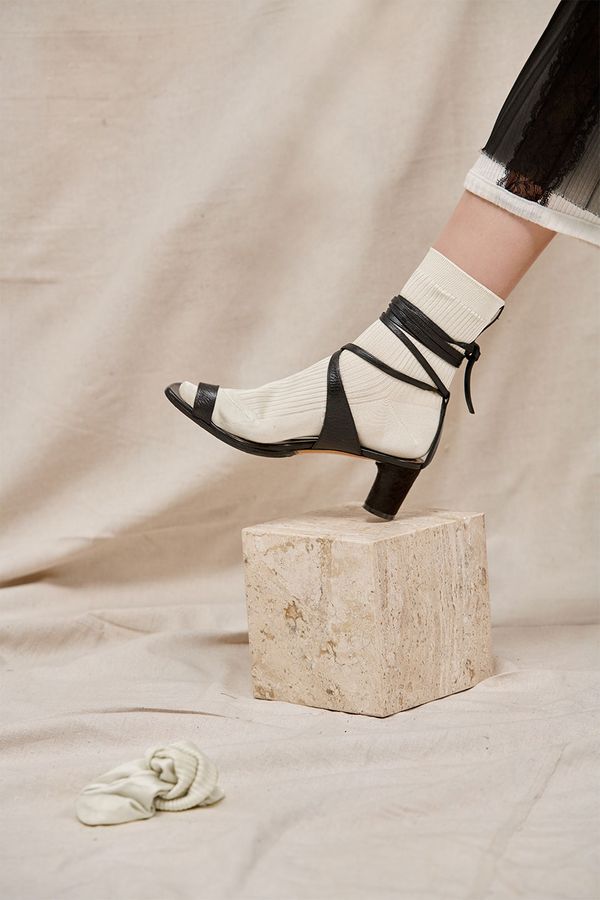 ---

On Ray Eames & the Art of Entertaining
The Eames' were not like most mid-century couples. Charles was not the sole breadwinner, Ray was hardly Mrs Happy Homemaker, and they did not live in one of the
ticky-tacky houses
that proliferated Los Angeles at the time. They were pioneers in many ways, their life and work a distinct reaction to the post-war growth spurt burgeoning around them.
And while they are most well known for their furniture and design philosophy, the more I familiarized myself with Ray's approach to life in general, the more intrigued I became.
Ray, while often overshadowed by her husband in the press, was an independently creative modern woman. She studied painting under Hans Hoffman and eventually went on to become a founding member of
American Abstract Artists
in 1936. The New York collective included Josef Albers, Burgoyne Diller and Alice Trumbull Mason amongst others, and set about cultivating an appreciation for stateside abstract art. They were bold modernists who knew that opportunities to exhibit their work would be hard to come by, and so they rolled up their sleeves and built a framework within which to exhibit their art themselves.
Once Ray met Charles, an up-and-coming architect teaching at Cranbrook Academy of Art in 1940, the pair explored a plethora of new pursuits. From furniture design and architecture, to film making and toy construction, they developed an incredibly collaborative practice that blurred the lines between their individual contributions. They worked as one, seamlessly and without ego.
Ray's undoubted gift for color and composition guided her every decision. And while some of her contemporaries felt that she had forgone her art, she was quick to reply, "I never gave up painting, I just changed my palette." She seemed thoroughly unphased by the opinions of others, eager to forge her own path.
My first physical encounter with the duo's work came about when I moved to Los Angeles and visited Eames House. I was fascinated by this quirky couple who seemed to march to the beat of their own drum in a period that was distinctly marked by homogenization. Within a year, and with thorough training provided by the Eames Foundation, I found myself a docent, guiding visitors through the property, imparting tidbits about the lives of the humans who made their home there.
The more I observed the house, the more I became transfixed by small details. In particular, the kitchen seemed to be a space that people were magnetized to. There is something unifying about the domesticity of a kitchen – a reminder that no matter how profound a person's work may have been, they would still sit down three times a day to commune over a meal. And as I was already familiar with how nuanced the Eames' design practice was, it came as no surprise that Ray was equally as fastidious when it came to entertaining.
The role of the host was at the forefront of Ray and Charles' approach to everything. Their desire to anticipate the needs of any guest meant that the opinion and experience of every person was considered, be it when designing a chair or preparing a sandwich. Ray, in particular, was meticulous when it came to keeping notes. Not only was she interested in direct feedback, but she paid attention to what people did not say and what their body language revealed.

For instance, when hosting a dinner party, Ray would pay attention to which dishes each guest consumed, what they had been served last time, and what aroused audiblue delight when it arrived at the table. She preferred serving a myriad of dishes on innumerable small plates, meaning everyone at the table could easily reach what they wished to try and politely avoid what they preferred to decline. Tables were festooned with hand-painted place settings and smatterings of flowers in small vases, so as not to obstruct conversation. Outwardly she projected carefree jubilance, whilst always maintaining a watchful eye, eager to understand exactly what worked and what she could improve upon next time.

None of this should be seen to imply that Ray herself was a keen cook or dutiful homemaker. In fact, it seems that her cooking skills were somewhat rudimentary, meaning meals were often a melange of cold cuts, picnic favourites and finger foods. Yet instead of being discouraged by this shortcoming, it fortified her impeccable devotion to her guests' pleasure and enjoyment. When I imagine a summer picnic in their Pacific Palisades meadow, friends playing with toy prototypes while noshing on cheeses and chocolate cake, I'm reminded that the simple pleasures in life are those that often bring the most joy.

Entertainment was another element of most soirées. Both at the Eames' home and at the office, visitors were often privy to impromptu film screenings. Ray and Charles always seemed to be tinkering away at something behind the camera and any feedback would of course be catalogued, considered and then incorporated into new edits.

I think the pair both recognized that great ideas can come from anywhere. And as an incentive for constructive conversation, they were both eager to ensure everyone had some fun along the way. That unlike the more pedestrian nine-to-five grind, work could be leisure, and leisure could be wonderfully fruitful.

There is something about Eames House itself that feels innately welcoming. Perhaps it is the enormous panels of glass that allow visitors to soak up every inch of its interior, the happy swathes of primary colours above the front door, or even the location itself; an open field of green, dotted with wildflowers in the summer. It is a space that says, "Hi there, thanks for swinging by! Why don't you come in and stay a while."

As the only residence the couple ever built, it remains a testament to their way of working. A beacon of collaboration and a home that to this day feels as though it lives and breathes. Ray had the foresight during her life to recognize the importance of preserving the space, not as a museum, but as an example of another way to do things. For me, it reflects how important she felt the responsibility for the host was – one that centered around entertainment, play and participation. And in a world that feels increasingly marked by digitization and social isolation, her legacy acts as a reminder that human connection is the root of all good work. ▪

---
On Writing
I'm not sure I ever decided that writing was for me. If anything, it was always something I struggled with – finding the right words never came naturally. But now in my mid-30s, it appears that putting thoughts down on paper has become the constant thread of my adulthood.

Perhaps we've all glorified the act of writing a little too much. There is a permanence to paper and ink that traditionally felt definitive, but even with the advent of the internet and digital word processing, it retains a certain herculean mythology. The writer, thinking great thoughts, solving great mysteries, decoding the joy and sorrow of human existence.

In reality, I have found it to be a less lofty pursuit. It has been both my survival technique and defense mechanism. When confusion strikes, it seems to help me stumble through the fog. If I'm conversly digesting good tidings, it has allowed me to savor their sweetness. Good or bad, whether unread and willingly shared, they have helped me to make sense of the utter nonsense that is life.

My deepest, most self-serving and mortifying desire is to write something good. To write words that resonate with someone I might never meet. For that person to wonder with amazement at how I managed to capture their innermost dialogue and translate it into something universal, imbued with meaning and understanding. To take something intimate and secretive, and say, "Yes, you are as unique as a snowflake but this human experience means we have so much more in common than you'd ever know." I want to feel the connective tissue between us, as a salve against loneliness.

And it is the weight of this desire, and the legacy of thousands of thinkers and writers across history, that tends to paralyse me in my tracks. Indeed a fear of failure, but more than that, an appreciation of responsibility.

Words have helped me to see outside myself, to inhabit another world. To be reminded that we contain multitudes and that with the simple act of opening a book, we can be exposed to a completely different experience of the world.

Now I find there are two distinct practices that I am drawn to. The first is perfunctory writing – its purpose akin to therapy. It helps me to disentangle my thoughts and quieten my mind, and alongside meditation, has made space for a less mercurial existence.

The second practice is what I'm only beginning to explore now. There are no results attached, no quotas to fill. But when I show up over and over again in this frame of mind, new thoughts start to emerge. For a fraction of a moment, I'm able to drop the ego and play – with words, with ideas and with perspectives. It is a game of sorts, that reveals something new each time.

And so,
I continue...

▪